[Previous] [Contents] [Next] Services - Oil change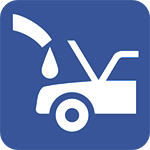 Regular oil changes are essential to protecting your engine from a complete failure (which can be very expensive), and is a typical requirement of manufacturers for warranty coverage. It is a very inexpensive preventive aspect of vehicle maintenance which is often overlooked.
Oil must be flushed and replaced within every 5,000 km. or 3 month period (whichever comes first), or more often if your manufacturer recommends it (contact us or check your owners manual for details).